We all strive to produce content that's compelling and well-written. And now that we're using AI content tools that have made the content creation process easier, what about the ethics of content that's no longer created by humans?
AI apps have made it easier for plagiarism to flourish
Can AI content detectors stay ahead of the new detection apps that are hitting the market? This is an ethics problem that really hasn't been adequately addressed, and the issue is surfacing as schools, businesses and government agencies set standards for original content. They're looking for content that's generated by humans–not by machines.
AI content tools and the ethics
Source: Zapier
AI content tools are software programs that use artificial intelligence to assist with various aspects of content creation. After we enter our topic and keywords, AI content writers generate an article based on this information. We are to assume that the article is plagiarism free.
AI articles aren't ready for primetime
These AI articles are drafts and need a lot of work before they're ready for primetime. There's duplication. They lack the examples and data that make them relevant. There are no case studies or examples of personal experience that make writing compelling.
For my AI content, I delete some of the garbage and go back and start updating the drafts. I google, looking for interesting data and case studies. I'm a good writer, so it's easy for me to rewrite this, but it's entirely possible that snippets of information don't get rewritten. And those snippets well may get flagged as plagiarism.
Plagiarism means that it only needs to resemble the original
It's important to know that search engines identify plagiarism as information that resembles the original—it doesn't have to be identical to the original phrasing to still be regarded as plagiarism. You can't change a few words and think that it's now plagiarism-free.
A plagiarism lesson from Writesonic
I use Writesonic, and I love this app that I've been using for a year or so. So when I get ready to draft an article, I have a choice of 4.0 or the newer 5.0. For this newer version, I just key in my topic, then a few urls of relevant articles. Well, guess what? The resulting article gets flagged for plagiarism. So I'm sticking with 4.0 where I identify topic and four longtail keywords. 
These AI tools are making our lives easier on many levels, but inevitable problems are emerging. Plagiarism is an obvious one because the ethics of AI tools hasn't even begun to be addressed.
Copyscape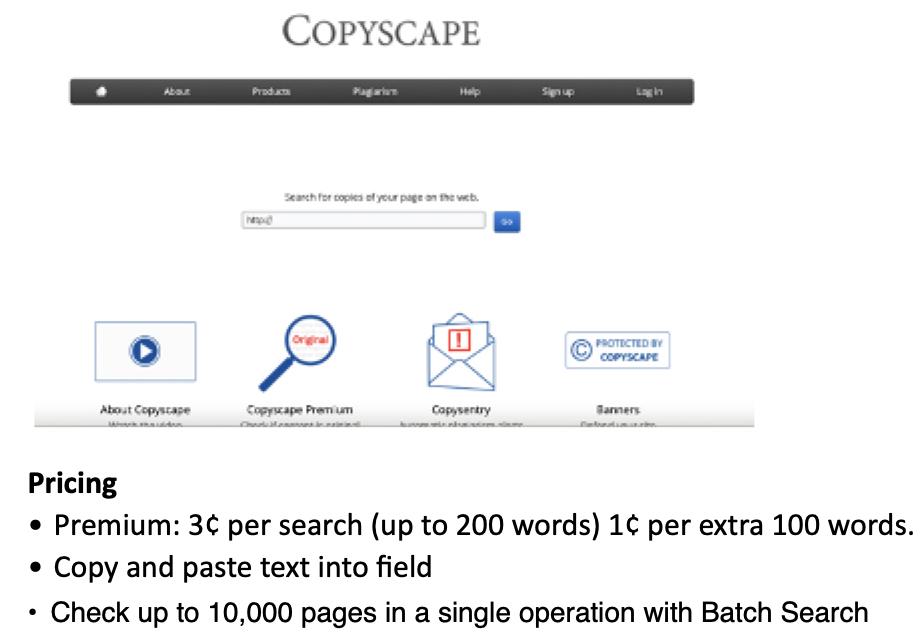 Copyscape plagiarism checker has become the industry standard. It's widely used by bloggers, publishers, and website owners. If you're submitting articles to publications, you want to be running your article through the Copyscape plagiarism checker before submitting it.  It uses advanced algorithms to scan the internet for content that is similar to your own. Copyscape offers both free and paid versions, with the paid version offering more advanced plagiarism checking features. If you intend to be sharing your articles with any outside source, you need Copyscape.
Why we like this application
Ease of use. There's no downloading or workarounds. Drop your document into the field and it starts evaluating it immediately and creates a report.
Turnitin
Turnitin plagiarism checker is another popular AI tool that is widely used in the academic sector. Educators and students use Turnitin to detect plagiarism in academic writing, but it can also be used for other types of content. Turnitin uses a database of more than 70 billion web pages and 170 million student papers to identify instances of plagiarism.
Why we like this application
The academic sector is facing big challenges as students turn to AI content writers for their homework assignments. Turnitin plagiarism checker is helping fill that need.
Grammarly Plagiarism Checker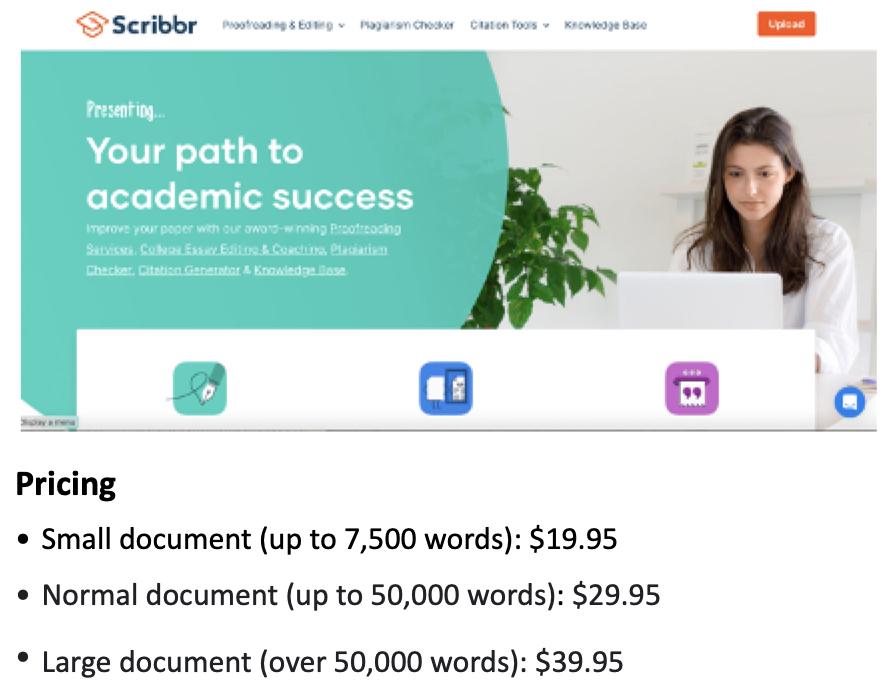 Grammarly is a popular AI content tool that offers both grammar and plagiarism checking. Grammarly plagiarism checker is widely used in the academic sector. It's used by writers, students, and professionals to improve the quality of their writing. Grammarly uses advanced algorithms to scan your content for grammar and spelling errors, as well as instances of plagiarism. It's more than an AI content writing tool—it's goal is to help us communicate better. Write, rewrite and ideate. One more thing: The guys who started this company are really into doing the right thing.
Why we like this application
Named by TIME as one of the 100 most influential companies and by Fast Company as one of the world's most innovative AI companies. Listed by Software Report's top 100 software companies. How can you not love this application?
Copyleaks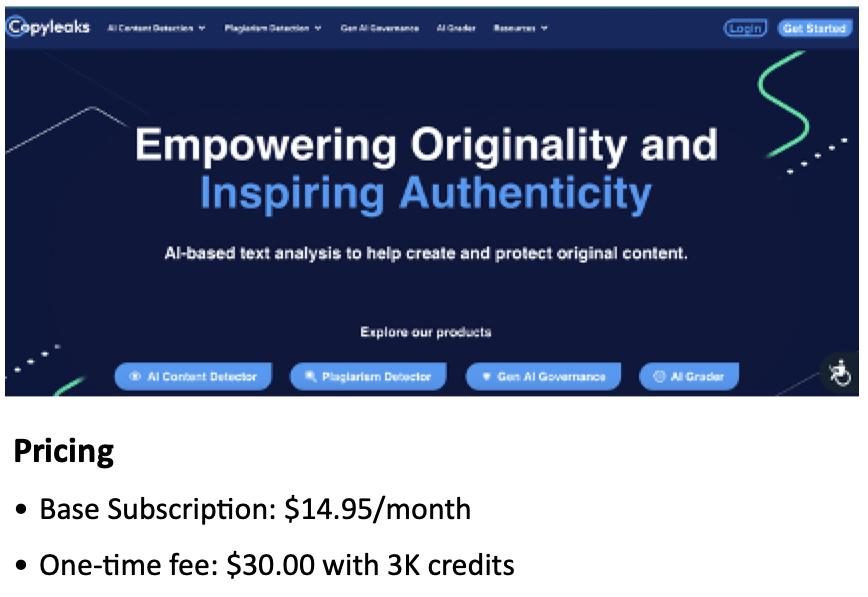 Knowing what information was produced by humans and what was produced by AI is essential for maintaining cyber compliance and combating copyright infringement. Copyleaks plagiarism is the one of the most complete products on the market, boasting 99.1% accuracy and full model coverage that includes GPT-4 and Bard.
Why we like this application
Detects AI content that has been plagiarized as well as paraphrased text. That means the text that you've grabbed from the web and rephrased. Copyleaks can identify that.
Scribbr
Scribbr is another popular AI content tool designed specifically for the academic sector. Scribbr offers a range of features, including Scribbr citation generator and Scribbr plagiarism checkers, well as grammar and spelling checks. Scribbr is widely used by students, researchers, and academics to improve the quality of their writing. Scribbr, like Turnitin, are geared for academics; it has specific conventions in terms of content, structure and style. Scribbr has an AI proofreader that finds and fixes grammatical and spelling mistakes. It also understands academic formatting and style guidelines.
Why we like this application
Easy to use plagiarism tool and citation generator
ProWritingAid
ProWritingAid is a comprehensive AI content tool that offers a range of features, such as grammar and spelling checks, style suggestions, and even a thesaurus. It is widely used by writers, bloggers, and professional writers. What sets ProWritingAid apart are its loftier goals of improving the quality of your writing. ProWritingAid is competing with Grammarly in this space. ProWritingAid also offers integrations with writing software like Microsoft Word and Google Docs.
Real-time AI ensures that everything you share is error-free, clear, and concise.
Why we like this application
Readability reports, clarity suggestions, jargon deductions, rephrasing suggestions.
Specifically geared for writers, work and higher education
Cramly.ai
Cramly.ai is another app that's geared toward the academic community. It's designed to help students focus on the content of their papers, rather than time-consuming prep work. With the help of Cramly.ai, students can work more efficiently focusing on the information they want to learn, maximizing value.
Why we like this application
Trusted by more than 50,000 students across colleges and high schools. Cramly.ai features include improved AI, longer essays, plagiarism detection, 10+ AI templates. Cramly.ai generates plagiarism-free content in minutes.
Conclusion: AI content apps–Affordable, easy to use
There's a wealth of new AI content writers on the market trying to keep pace with an industry that's exploding.
Along with the content writers comes AI content detectors. These apps are affordable and easy to use.
They're helping schools and other industries ensure that the articles and other submitted documents are not plagiarized, but original copy.
While these AI content detectors have become standard in higher education, they have yet to penetrate other industries, but that will come.
In the meantime, applications like Scribbr, ProWritingAid, Turnitin and Cramly.ai are widely used in the academic sector. In business, Copyscape and Grammarly have become the industry standards.
The matter of AI content writers and ethics really has not been addressed, but it will become more visible over the next months.
Contact Top of Mind Marketing. We're writers and digital media specialists, 510.292.1843, jpeischel@top-mindmarketing.com