There is a wide range of podcast editing software that's meeting the explosive growth of this industry. As a podcaster, you have just two ways to set yourself apart—the quality of your content and the quality of your audio.
Podcast audio editing
Podcast audio editing is the necessary step of editing the audio you've recorded in your podcast to create a seamless, professional-quality listening experience. Podcast audio editing requires removing background noise and unwanted distractions. This can include sounds like hissing, hums, or echoes that may have been captured during the recording process.
Another important part of podcast audio editing is adjusting the volume to create a consistent level, eliminating sudden spikes or drops in volume. You want to ensure that the host's commentary is clear and understandable. You also can add music, sound effects, and transitions that can enhance the overall listening experience.
Listener Engagement: Clear, well-produced audio captivates listeners and keeps them engaged. Professional, high-quality audio enhances:
Brand image: High-quality audio helps establish a strong brand image, an authority in your niche.
Retention and growth: When listeners have a positive experience with your podcast, they are more likely to recommend it to others or share notes.
Monetization opportunities: Brands and advertisers are more likely to collaborate with podcasts that have high-quality audio. It will be easier to find a sponsor.
Podcast editing software
Achieving professional-quality podcast editing starts with good podcast equipment. If you're a podcasting newbie and have a limited budget, there are numerous free podcast editing software options available. While these may not have all the advanced features of paid software, you can still produce quality podcasts with these podcast recording software options.
Some of these options offer a free version that's very limited, and you're going to find yourself quickly blowing through your allotted time, number of downloads, etc. Upgrading to the next level is generally pretty affordable, starting at $15/month. Back to my old software evaluation rule: Weigh value vs cost. Which podcast editing software will work best for you. Don't forget to read the reviews.
Free/Low-cost Podcast editing software options
Riverside.fm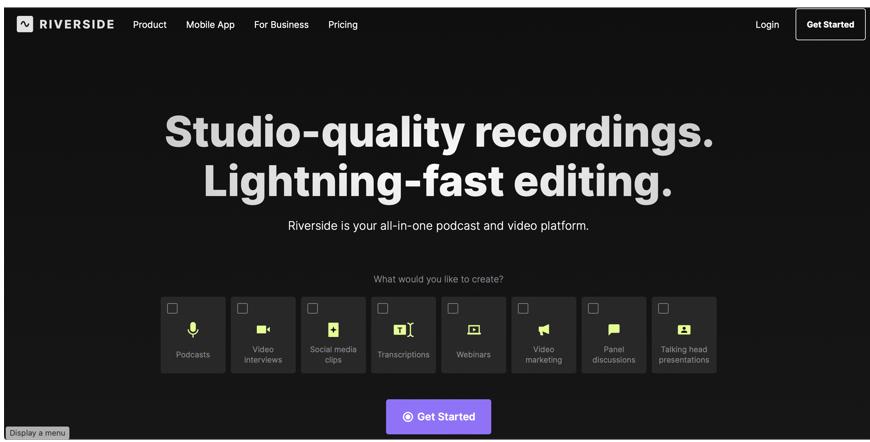 This is the first (video) podcasting program that allows offline 4K video and lossless audio recording without a network connection. The technology is used by many of the biggest media companies and personalities in the world, including Hillary Clinton and Verizon Media. It's used to record studio-caliber interviews from any location without sacrificing the sound quality of the recording.
Pricing:
Free: 2 hours of separate audio and video tracks; unlimited single-track recording and editing
Standard: $15/mo: 5 hours of separate audio and video tracks per month
Pro: $24/mo 15 hours of separate audio and video tracks/month
Other features include things like live streaming to social media, custom packages, live chat support, etc.
Murf.ai
Murf is a realistic text-to-speech engine that runs in the cloud and can produce voiceovers for content such as YouTube videos, podcasts, commercials, e-learning materials, presentations, audiobooks, etc. Murf uses artificial intelligence and deep machine learning algorithms to produce realistic voiceovers in 120+ voices and 20+ languages. 
Pricing:
Free: Very limited: 10 mins of voice generation; 10 mins of transcription
Basic: $19/mo. Unlimited downloads, 24 hours of voice generation
Pro: $26/mo. Access to 120+ voices. 48 hours of voice generation per user/year
Enterprise: $75/mo. Access to all features for 5+ users.
Descript
Descript AI-driven podcast editing software. Descript automatically transcribes files in seconds, so you can quickly make edits or dive into the multitrack timeline editor. Look for the ability to edit video and audio files just like you edit a text document. Perfect for those who don't have a studio, it includes studio-quality sound in one click. No studio required!
Pricing:
Free: A very good price
Creator: $3
Pro: $6
Podcastle
With Podcastle, you're getting more of a full-service studio. Record audio and video all in one platform. An intuitive audio workstation, Podcastle features AI noise removal and equalization, text editing and a royalty-free music library. Create an entire podcast with AI voices to tell your story. Podcast also has the ability to work with teams in a shared environment.
Pricing:
Free for one creator with unlimited audio recording and editing
$11.99/mo. for Basic plus AI editing; royalty-free music library; 10 hours of transcription
$23.99/mo for features such as an AI clone of your own voice, 20 hours of video recording removal and 25 hours of AI-powered transcription
Podbean
Podbean bills itself as an all-in-one podcasting platform—from creation through hosting, editing and monetizing. It includes an easy-to-use recorder and a podcast player. Make compelling podcasts right from your phone. Podbean may be the. professional-quality Podbean live streaming.
Pricing
Basic: Always free
Unlimited: $9/mo/billed annually or $14/mo. Unlimited audio.
Unlimited Plus: $29, billed annually or $39/mo. Best for video podcasts and podcast monetization
Network: $70/mo, billed annually or $99/mo. Best for multiple public podcasts and podcast networks
Podcast follow-up
Podcast transcript generator
Transcriptions are written versions of your podcast episodes. They provide a text-based format of your content, making it accessible to a wider audience. Creating transcriptions for your podcast episodes and posting these to your website offer a few benefits:
Improved SEO: Transcriptions help search engines understand the content of your podcast episodes, which can improve your visibility in search results. Including relevant keywords in the transcription can further enhance your SEO efforts.
Accessibility: Transcriptions make your podcast accessible to people with hearing impairments or those who prefer reading over listening. By providing a written version of your content, you can reach a broader audience.
Content repurposing: Transcriptions can be repurposed into blog posts, articles, or social media content. This allows you to reach your audience through different channels and expand your content marketing efforts.
There are several ways to create transcripts for your podcast episodes. You can either manually transcribe the episodes yourself or use automated transcription services or software. Apps like Temi, for instance, charge $.25/minute. Otter.ai is free for the Basic version.
Podcast show notes
You can create show notes as you create your podcast program.
It may follow an outline with key topics you'll be covering.
Speaker background and bio
Include quotes/testimonials
Resources that you may have used
Add transcript or excerpts
Use a format and font that's easy to read
Conclusion
Mastering the art of audio editing is essential for creating a successful podcast.
High-quality audio will significantly impact the success and growth of your podcast.
Review podcast editing software that provides the best value at the best price for your business
For follow-up: Provide transcript show notes and a transcript and post them on your website.
Stay in touch with your audience.
Contact Top of Mind Marketing. We're writers and digital media specialists, 510.292.1843, jpeischel@top-mindmarketing.com