Best Web Hosting for SEO Results
What you need to know about security, data management and search
A new website starts with discussions about design–this is the sexy, fun stuff. Graphic and web designers share slick presentations of their portfolios, making it look easy to create a beautiful new website. This is before you get down to the hard stuff–writing new content, developing a navigation schematic and showing up in search engines. But there's another important component of a website project that usually gets completely overlooked: Your server and your web hosting service. These are key players in your online presence and contribute to—or detract from–your SEO.
Contents
The importance of web hosting services
Web hosting security
Hosting and SEO
Your individual hosting needs
Trustworthy web hosting services provide critical advantages, including better site performance, efficient data management, stronger security, and high uptime. A dependable web hosting service is a smart investment in SEO that transcends load time. This article discusses the impact of website hosting on your website's overall online presence, especially your SEO.
Hosting: The backbone of every website
This is where your website's files and data are stored, facilitating access to your site by users from across the globe. Reliable web hosting providers ensure that your website is always up and running, with minimal downtime, fast loading times, and robust website hosting security features.
Web hosting security
It's inevitable. Every server goes down, and we're all vulnerable. It's the effort to get that server back up and running that matters. I used to work for an investment banking firm, and I remember that the server went down one morning during trading hours—from 5am to 1pm.
Without access to the trading platform, there's a lot of money that's not being made. That's a whole lot of Type A personalities running around going a little bit crazy. So the entire tech team scrambled to get the system back up and running.
It took them a couple of hours, but after that, they made changes to their staffing and to their computer infrastructure to help avoid another costly server derailment. Web-hosting security and maintenance quickly became the number one priority for this company.
SEO web hosting providers and your overall user experience
Google keeps raising the bar. Just as Google prioritizes quality content, it prioritizes websites that provide a seamless user experience. That great user experience includes a website's loading speed, security and accessibility. As a result, choosing the right web hosting provider can significantly impact your site's SEO performance, ultimately determining its position in search engine rankings—first page vs tenth.
Server downtime can have negative implications for your business. If you've got an ecommerce site, you'll miss out on potential sales and damage your reputation if customers find your site unreliable. Search engines may temporarily de-index your website if they crawl it during downtime. Frequent downtime can lead to less frequent crawls, which can impact your overall SEO efforts.
Page loading time is a key metric
An obvious and key factor that search engines consider when ranking websites is their loading speed. A fast-loading website not only provides a better user experience but also increases the likelihood of visitors staying on your site longer and engaging with your content. Nobody sticks around waiting for a page to load–we move on. Slow load time translates to high bounce rates and poor user experience and ultimately, lower search-engine rankings. Web hosting providers play a crucial role in determining your site's loading speed. A high-quality web host will offer fast servers, optimized infrastructure, and efficient caching mechanisms, leading to better website performance and improved SEO.
Web hosting security means you're less likely to be hacked
A critical aspect of web hosting that affects SEO is security. A secure website is less likely to be targeted by hackers, malware, or other malicious activities that can have severe consequences for your search engine rankings. For instance, a hacked website may be penalized by search engines, resulting in lower rankings or even removal from search results altogether.
By choosing a web host with robust security measures in place, such as SSL certificates, firewalls, and regular backups, you are protecting your website from potential threats and maintaining a favorable position in search engine rankings.
Where is a server located?
Server location plays a significant role in the overall user experience. The physical location of your web host's servers can also impact your site's SEO performance. Search engines consider the geographical location of your website when serving results to users. It gives preference to sites that are hosted closer to the searcher's location.
If your target audience is based in the Northeastern part of the US, having your website hosted on a server in that part of the country can result in faster loading times and a better user experience for your visitors. That will, in turn, lead to improved search engine rankings. Conversely, hosting your site on a server located far away from your target audience can result in slower loading times and potential ranking penalties.
I've been noticing that a lot of the sites I'm guest posting on are international, with .io (international organization) classifications. Besides being reminded that we are a global community united by the internet, I've been conscious of load times, which don't seem to be affected, but I'm very aware of location and have been tracking this.
When it comes to web hosting providers, GoDaddy is the global leader, at 44.18 million websites. Besides hosting service, these companies also are selling server and data-center space. We love our data!   
According to First Site Guide, the web hosting industry is valued at $56.7 billion and is projected to continue growing at a compound annual growth rate (CAGR) of 15.5% until 2027.
Four things to consider when selecting a website hosting service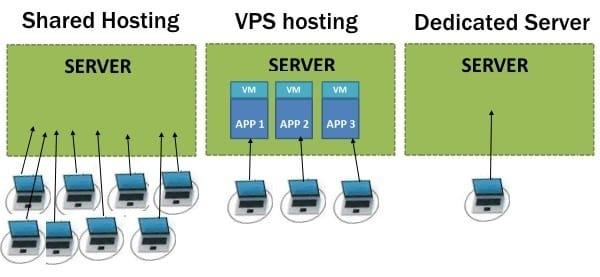 There are various types of web hosting, each with its own set of advantages and disadvantages. Understanding the differences among these hosting options will help you make an informed decision when choosing a hosting provider that best aligns with your SEO goals. Understanding your own needs is a critical part of choosing an SEO web hosting service.
1.Shared hosting: Shared hosting is the lowest common denominator for SEO web hosting for small businesses and entrepreneurs. Shared hosting is a popular choice among small businesses and beginners due to its affordability. In this type of hosting, multiple websites share the same server resources, which can lead to lower costs. The downside? Sharing resources also can result in slower loading times and unpredictable performance, particularly if one or more sites on the server experiences a surge in traffic. While shared hosting may be suitable for small websites with low traffic levels, it may not be the best option for sites that require faster loading times and consistent performance to maintain strong SEO rankings. If you have an ecommerce store, shared hosting may not be the best option for you.
2.Virtual private server for SEO web hosting: VPS hosting is a step up from shared hosting, offering more control and customization options for your website. In this hosting environment, your site is hosted on a virtual server that mimics the functionality of a dedicated server, but within a shared hosting environment. VPS hosting can provide better performance and loading speeds than shared hosting, as resources are allocated more efficiently among the websites on the server. This can lead to improved SEO performance for your site, particularly if you have moderate traffic levels and require more control over your hosting environment. VPS also provides a higher level of web-hosting security.
3.Dedicated server for SEO web hosting. This option is perfect for websites that receive a lot of traffic and need high-level performance. With dedicated hosting, your site is hosted on its own server, so  you have complete control over its resources and how you optimize its performance to meet your website's requirements. Dedicated hosting provides the highest level of performance and loading speeds. It's an excellent choice for businesses that value SEO and need consistently fast loading times for their websites.
4. Cloud hosting. Cloud hosting offers scalability and flexibility, making it an excellent choice for SEO web hosting. This relatively new form of hosting utilizes multiple servers within the cloud to provide high performance and virtually unlimited resources, such as load speed and performance. With cloud hosting, websites can easily scale up or down to meet fluctuating traffic levels or accommodate resource-intensive applications. This not only ensures optimal security but also enhances the overall hosting experience.
What is a secure web gateway?
A secure web gateway is a solution that helps protect users and organizations from web-based threats. It acts as a filter between users and the internet. It monitors and controls web traffic to prevent access to malicious websites, malware downloads, and other online threats. It also enforces security policies, such as blocking certain categories of websites or monitoring user activity. A secure web gateway can go a long way towards ensuring a safer, more secure browsing experience for individuals and businesses.
Choosing the right website support services for optimal SEO web hosting
Selecting the right web hosting provider is crucial for achieving optimal SEO performance. Here are some factors to consider when choosing a hosting provider that aligns with your site's SEO goals.
Look for experience, a good reputation and technical support
A good web hosting provider should have a proven track record and a solid reputation within the industry. A well-established web-hosting company should have the necessary expertise, infrastructure and resources to ensure your website's optimal performance and security.
Choose a hosting provider that offers reliable and responsive technical support. A strong support team can help you resolve issues that may arise quickly and efficiently, minimizing the potential impact on your website's SEO performance. I was talking to one of my colleagues whose server was down for two days. That really isn't an acceptable level of support. If you're looking around for a hosting provider, ask your IT colleagues. They'll know who has a good reputation in the industry and who will provide the level of support that you need.
Website security software with regular backups
Ensure that the hosting provider you choose offers robust security features, such as SSL certificates, firewalls and regular backups. Strong security measures can protect your website from potential threats and maintain a favorable position in search engine rankings.
Location matters: Think about where your audience lives
Find a hosting service that is close to your audience. It will guarantee faster load times and overall improved user experience and ultimately, improved SEO. One way to overcome the potential limitations of server location is through the use of a Content Delivery Network (CDN).
CDN: Smart servers that deliver content from the server closest to the user's location
A CDN is a network of servers spread out across different locations, which is intended to efficiently deliver your website's content to users. When users visit your site, the CDN serves the content from the server that is closest to their locations. The result is faster loading times and improved user experience. By utilizing a CDN, you can boost your site's SEO performance, especially if you have a global audience or serve users throughout the country.
Conclusion: There's a relationship between your server and SEO
Choosing the website support services can significantly impact your site's loading speed, security, and overall performance, which are all essential factors for achieving strong search engine rankings.
When selecting an SEO web-hosting provider, look for experience, reputation, technical support, security features, and server location.
The use of a CDN can further optimize your site's performance and enhance its SEO capabilities. By understanding the connection between SEO and hosting and making informed decisions when choosing a hosting provider, you can lay the groundwork for a successful online presence and ensure that your website consistently ranks well in search engine results.
Use online SEO tools because it always seems to come down to keywords! After you have identified your competitors and analyzed their websites, it's time to identify the keywords or phrases that your competitors are using on their websites or in their online content to attract and engage their audiences. You especially want to be looking for those keywords that you've identified as your own primary and secondary keywords.
Pay attention to headings, titles, meta tags, and URLs—this is where we usually place our important keywords.
You don't have to be a techie to love this one. View the HTML source code of your competitor's website by right-clicking on the page and selecting "View Page Source" or a similar option. Do a "Find" and look for metatags, title tags, and header tags that contain keywords. You can also search for the "keyword" metatag, although it may not always be present.
Use online SEO tools specifically designed for competitor keyword analysis. Online SEO tools like SEMrush, Ahrefs, and Moz can provide insights into the keywords your competitor is targeting. Enter your competitor's website URL into these tools to get a list of the keywords they are ranking for.
Google Keyword Planner: Use Google's Keyword Planner tool to research keywords. Enter your competitor's website URL or specific pages into the tool, and it will suggest relevant keywords based on the site's content.
SERP Analysis: Analyze the search engine results pages (SERPs) for your target keywords. Look at the titles, metadescriptions, and content of the top-ranking pages to identify common keywords used by your competitors. Online SEO tools will help with this as well.
By understanding the keywords that your competitors are targeting, you can gain insights into what their audience is searching for and what type of content resonates with them. This information will help you improve your own website's search engine optimization (SEO) strategy and create content that meets the needs and interests of your target audience.
By identifying the keywords your competitors are ranking for, you can determine which keywords are most valuable to your business and focus your SEO efforts accordingly.
Using competitive intelligence, 56% of executives keep an eye on their potential competitors and make plans to conquer new markets in the following three years. (Source: PwC)
Step 4: Marketing competitive analysis and customer retention examples
The fourth step of competitive landscape analysis is marketing competitive analysis and evaluating your target competitors' customer retention strategies. It involves researching their advertising, promotion, competitive branding efforts, and how your competitors win long-term customers.
AI can analyze pricing data from competitors to help businesses optimize their pricing strategies. By monitoring competitors' pricing trends and analyzing customer responses, AI can provide insights on how to adjust pricing to remain competitive and retain customers.
Analyzing your competitors' marketing strategies can help you enhance your own marketing efforts and stand out in the market. Don't be afraid to steal ideas.
By identifying marketing gaps or opportunities, businesses can find ways to improve their campaigns. It can also help prepare for potential threats or challenges, such as a competitor launching a new marketing campaign.
By combining the findings from your competitor's marketing and customer retaining strategies, you can devise a foolproof technique of your own without repeating the same mistakes as your competitors.
Step 5: B2B pricing strategy
Step five of the competitive analysis is to analyze your customers' pricing strategies. It's vital to assess your competitors' strategies to understand their pricing models, such as cost-plus, project-based, hourly or value-based pricing–each impacts your target audience's purchase decision.
You can adjust your own pricing by analyzing your competitors' pricing strategies to remain competitive. For instance, if a competitor lowers their prices, you may need to adjust your pricing to retain your customers and avoid losing market share. It may also show that it's time to raise your prices!
Step 6: Social media review
Step six of competitive analysis involves a social media review to understand their social media marketing strategies. This step includes identifying the social media platforms your competitors are using and analyzing their content to see which posts get the most engagement.
Are your competitors using video content and how is their audience responding to it? The response can help guide your own video strategy. Not using video yet? Maybe it's time to step up!
Are your competitors working with influencers and other brands to increase their reach and engagement?
Are your competitors partnering with other organizations to create synergies. What about white label marketing?
By understanding your competitor's social media strategies, you can gain insights on how to improve your own social media presence and increase engagement with your target audience.
Why benchmarking is important
Benchmarking is important because it compares a company's performance or practices against the best-performing competitors or industry standards to identify areas for improvement and growth.
This is an example of how benchmarking can help achieve long-term success:
A company in the fast-food industry decided to benchmark itself against its competitors to improve its customer-service experience. They analyzed the wait times, accuracy of orders, friendliness of staff, and overall cleanliness of their restaurants and compared them to their top competitors. Results found that their competitors outperformed them in several areas, such as the friendliness of staff and speed of service.
Using this benchmarking data, the company implemented changes in their employee training programs, improved their ordering and delivery processes, and invested in new technology to speed up service. The results? They increased their customer satisfaction ratings and attracted new customers, leading to growth in their business.
This example helps us see why benchmarking is important in helping businesses identify areas for improvement and achieve long-term success. Whether in customer service, product quality, or operational efficiency, benchmarking helps enterprises stay competitive and adapt to changing market conditions.
Additional tips for conducting effective competitive analysis
We have already discussed the most important aspects of competitive analysis. However, if you want to stay one step ahead of your competitors, you can follow these additional tips, focusing on key metrics.
Stay updated: Watch the latest industry trends and changes in your competitors' strategies. It will help you stay ahead of the curve and adjust your strategy accordingly.
Use multiple sources: Don't rely on a single source of information for your competitive analysis. Use primary and secondary research methods, such as surveys, customer feedback, industry reports, and competitor websites to get a complete picture of your competitors' strategies.
Focus on key metrics: Instead of trying to analyze every aspect of your competitors' business, focus on the key metrics most relevant to your business goals. It can include metrics such as market share, customer satisfaction, and customer retention rates.
Never ignore smaller competitors: While focusing on the major players in your industry is essential, don't overlook smaller competitors who may be using innovative strategies to gain market share.
Keep it ethical: While it's necessary to gather information about your competitors, make sure you do so in an ethical and legal manner. Avoid using unethical tactics like hacking or stealing confidential information to gain an advantage over your competitors.
Conclusion
Evaluate market with regular competitive analysis is a vital component of any successful business strategy.
Use online SEO tools to monitor and evaluate your competitors' online presence, products, pricing and competitive branding strategies, marketing tactics, and customer retention strategies, you can identify areas of improvement and opportunities for growth.
Stay ahead of the competitors by evaluating market changes, customer preferences and adjusting your strategies accordingly. Pay attention to key metrics throughout.
By implementing the insights gained from competitive analysis, you can make informed decisions and develop strategies that drive long-term success for your business.
Contact Top of Mind Marketing. We're writers and digital media specialists, 510.292.1843, jpeischel@top-mindmarketing.com