How to Boost Your Organic Rankings with AI-Driven Product Descriptions
A persuasive product description has the power to captivate potential customers, highlight the unique features of a product, and convince them to make a purchase. But writing great product descriptions is a skill that's often overlooked. And while we labor over our long-form blogs, doing careful keyword research and manipulating text to make sure we're getting the maximum SEO value, product descriptions can be an afterthought. Thankfully, AI apps are stepping in, saving time and money. 
How strange that is when it's our product descriptions that are so fundamental to what we do.
Contents
Optimizing product descriptions
3 AI Apps: Writesonic, Jasper and Anyword and best practices
AI content writer usage statistics
Focus on product benefits
Integrate product descriptions into your marketing strategy
The challenges of creating effective product descriptions
One of the main challenges is finding the right balance between providing enough information to keep our audiences engaged vs not boring them to death. Too much technical jargon overwhelms, while too little information can leave people feeling uncertain about the product's value.
For an ecommerce business with a lot of products, writing unique and compelling descriptions for a large number of products is time-consuming and resource-intensive. The solution?
Consider providing comprehensive information and frontloading it—the most important information in the first few paragraphs. If you really want to nerd out, attach a pdf file with more information. Make information available for those who want it.
An AI app, a product description generator, to the rescue!
Once again, we look to ai powered tools. In this case, product description generator. It's a powerful tool that can streamline the process of creating persuasive product descriptions. These AI-powered tools use advanced algorithms to generate unique and compelling descriptions for a wide range of products. By automating the writing process, businesses can save valuable time and resources while ensuring that their product descriptions are well-crafted and engaging.
Understanding SEO for product descriptions
In addition to being persuasive, product descriptions also need to be optimized for search engines. By incorporating relevant keywords and optimizing the structure and formatting of your descriptions, you can improve your website's ranking in search engine results and drive more organic traffic to your online store.
The benefits of using an AI-powered description generator
Using an AI-powered product description generator offers a few important benefits for businesses.
It allows for the quick and efficient generation of high-quality descriptions, saving businesses valuable time and resources.
AI apps use sophisticated algorithms to analyze customer behavior and preferences. The result is descriptions that are tailored to your target audience. The better your topic and keywords, the better the outcome.
AI-powered description generators can help enhance the overall user experience by providing consistent and engaging product information across your website. Integrate the messaging into your marketing strategy.
Features to look for in a product description generator
When choosing a product description generator, it's important to consider the features that will best suit your business needs.
Look for a tool that offers customizable templates. These will give you the ability to personalize the generated descriptions to align with your brand's voice and style.
Make sure the generator can scale–handling a large volume of product descriptions in multiple languages.
Pay attention to the SEO features—these will help you maximize the visibility of your product descriptions in search engine results pages (SERPS).
How to get the best results from an AI content writer
AI content generators start with a topic and keywords. The more specific the topic and the better your keywords, the better your result is going to be. The great thing about AI apps is that the process can be iterative. If you get a result that's really only halfway there for you, queue it up again with different keywords. I use Writesonic, and it provides nearly unlimited opportunities to edit articles.
Once again, these AI tools are just that—they're tools. I use them to jumpstart the process and get me thinking. I'm starting with a great draft rather than a blank page. Amazing.
Writesonic
I've been using Writesonic for nearly a year, and in that time it's scaled dramatically. Lots of new functionality, including ChatGPT. I'm learning to take advantage of new features, including the Content Rephrase tool that comes in really handy when you suspect there's some plagiarism or when you want to update an article with new information—in this case, an AI app becomes an amazing time-saver.
If you don't like the result, throw it back in until you get a result you like. This process creates a really good draft that you can polish and finalize.
What you'll love: The sheer scope of the toolset is impressive—it changes text from passive to active voice, shortens content when you have a character limit, writes keywords, company bios, etc.
I chose this AI app from a long list of AI content writers because it writes long-form articles—not all of these writers do that, so think about your needs before purchasing an AI app.
Pricing: Free trial; Unlimited words @ $16/month for individuals and small business
Not so great: Don't count on the plagiarism tool because it's not very robust. Use Grammarly and/or Copyscape.
Anyword
Anyword is for solo marketers and freelancers, featuring unlimited words. This is becoming the norm as the technology evolves. When I first started using Writesonic, I think my word limit was something like 900K words.
Anyword has more than 100 templates, which means that integrations are seamless, though it does not integrate with WordPress–yet. This AI app gets good reviews for its ability to create unique longform content. Anyone who has used an AI app knows how this one goes. In a 1500-word article, the last few paragraphs end up being a rehash of the previous paragraphs. Anyword does a good job of creating uniquecontent.
A caveat: One reviewer noted that he just pressed a button and got great copy. That really shouldn't be the expectation. While these AI apps are evolving quickly and adding more functionality, the resulting content isn't "great". It's a starting place.
Pricing: Free trial. $39/month. For teams, the cost goes up to $49/month. 
Jasper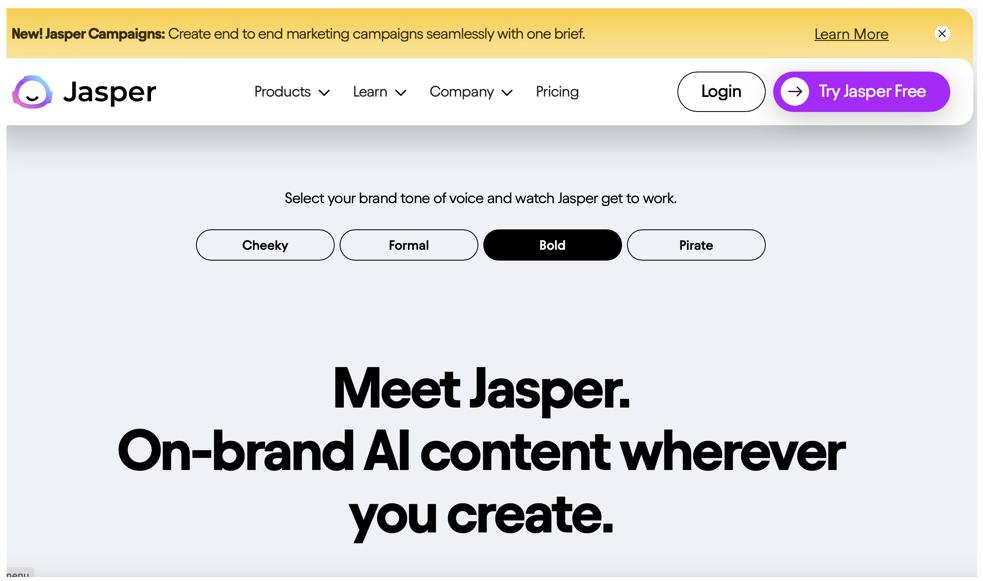 Jasper is consistently ranked as one of the best AI content writers on the market. It has more than 30 features and integrates with other applications, including SurferSEO.
Jasper's templates make it easy to start working on desired new content, such as a blog, article or whitepaper.
It has  sentence extenders, ad headline and blog outline generation, company bios, social media ad text and titles, SEO titles and a metadescription creator—all of which we've come to expect from an AI app.
Jasper also offers a Chrome extension that translates the power of its AI writing assistant to your browser. Apply H1 and H2 tags to your headings within the Jasper interface.
Pricing: It starts at $49/month. This makes Jasper a more expensive option than some of the other content writers on the market.
Best practices for using a product description generator: Know exactly who your target audience is. It's hard to create effective copy when you don't know who your customer is.
Before you go about creating any sort of product descriptions, you must first have a clear idea of your target customer and what their needs are. Building out your customer persona takes time, but it will be beneficial in the long run.
Statistics on the use of AI content writers from Don't Do It Yourself
The following is an interesting series of statistics that documents the dramatic usage of AI apps. Businesses both big and small are finding that AI apps are saving time and money.
37% of businesses are using AI because it can increase productivity by 40%
The global AI market value is expected to reach $267 billion by 2027.
28% of companies use AI for marketing purposes
AI can increase business productivity by 40%.
Around 71% of people believe that AI is more innovative than people.
By 2027 80% of companies anticipate using AI
12% of businesses use AI for content creation.
44% of businesses use AI technologies to lower operational costs.
By 2027, 80% of retail companies anticipate using AI in some capacity.
Businesses with more than 100,000 employees are more likely to have a strategy that implements AI.
How is AI used? Content creation and product descriptions are some of the most popular ways
Bloggers who use AI spend about 30% less time writing a blog post.
66% of bloggers who use AI primarily create How-To content.
36% of executives say their primary goal for incorporating AI is optimizing internal business operations.
75% of companies plan to use AI systems to eliminate fraud.
72% of adults in the U.S. think that AI can handle repetitive tasks.
Who is using AI tools? Both small business and corporations
The Washington Post's AI writer wrote more than 850 stories during the Rio Olympics.
The AI market grew by an estimated $93B in 2021
AI adoption in education is predicted to be worth $6 billion by 2024.
The artificial intelligence market grew by an estimated USD 93.5 billion in 2021.
The global artificial intelligence (AI) market size was estimated at U.S. $87.04 billion in 2021.
North America's market share in 2021 was 42%.
Focus on product benefits
When you settle in to write a product description, you're likely to focus on the features of your product or service. Forget the features. Identify the benefits. This is what your audience wants to know about.
It's the pain . . .
What is it that's making your potential customer reach out for help? If you can speak to that interest or "pain" and reach your potential client on an emotional level, you're on the right track. How can you help solve a problem, save money or time? These are the questions you should be answering.
Provide accurate and detailed information about your products, as the generator will only be as good as the input it receives.
Take the time to review and customize the generated descriptions to align with your brand's voice and unique selling propositions. Finally, regularly update and optimize your product descriptions to keep them fresh and relevant.
How to integrate product descriptions into your overall marketing strategy
Product descriptions should not exist in isolation—they need to be integrated into your overall marketing strategy. Consider incorporating your product descriptions into other marketing channels such as social media, email marketing campaigns, and product catalogs.
This should make sense because you're going to be generating descriptions that are SEO friendly, tailored to the benefits of your target audience. Using these again, repurposing them in other media is not only logical and cost-efficient, but a way to maintain consistency in messaging and branding. Promote this message across your marketing channels.
Conclusion
Well-crafted product description impact sales and conversion rates.
By leveraging the power of AI with a product description generator, businesses are streamlining the process of creating persuasive descriptions while saving valuable time and resources.
Choose a generator that offers customizable templates, SEO optimization features, and scale.
By integrating your product descriptions into your overall marketing strategy, you can maximize their persuasive power and drive conversions across multiple channels.