5 Best Collaboration Platforms for Small Business
Covid taught us to become a virtual workforce. We've learned that we can work anywhere.
Teams are working from home or around the world. Fulltime or parttime. Collaboration tools are now an essential part of the technology infrastructure. They're the new normal. Here are five platforms that offer a wide range of collaboration tools and functions—many offer free versions that are a good place to start. In this blog, we're going to take a look at five applications that businesses are relying on to keep their teams connected.
Microsoft
Slack
Asana
Trello
Podio

 
MICROSOFT 365
Microsoft Office isn't a platform you think of when it comes to collaboration tools, but it now runs at the heart of the Microsoft 365 cloud-based office suite. This is important because Microsoft Office is the most used, and therefore the most important, suite of team collaboration tools we have, and while there are competitors such as OpenOffice and Google Workspace (formerly G Suite), they haven't begun to catch up to the same level of functionality and ease of use. 
Features
One huge advantage: Who doesn't know how to use MS products? There's just no learning curve because we've all been using Word, Excel and PowerPoint for years.
Microsoft Office is likely to be at the heart of many businesses, the move to Microsoft 365 offers a number of advantages, especially the ability for project collaboration directly on the same set of documents. This could be anything from work shifts in an Excel spreadsheet to a PowerPoint presentation to client reports, proposals and contracts in Word. Word is where our business documents are created.
Available through the cloud, designed for collaboration and sharing with teams. What makes Microsoft 365 more attractive is that as a cloud-hosted platform it can be used not just with Windows, but also Mac, Android, and iOS.
What makes Microsoft 365 so attractive is that as a cloud-hosted platform it can be used not just with Windows, but also Mac, Android, and iOS.
Key feature for business: 
Microsoft 365 offers a number of project collaboration advantages, including the ability for teams to collaborate directly on the same set of documents—in Word, Excel and PowePoint.
Cost: Microsoft 365 costs around $7/ person, or can be purchased at a cheaper yearly rate of around $70.
SLACK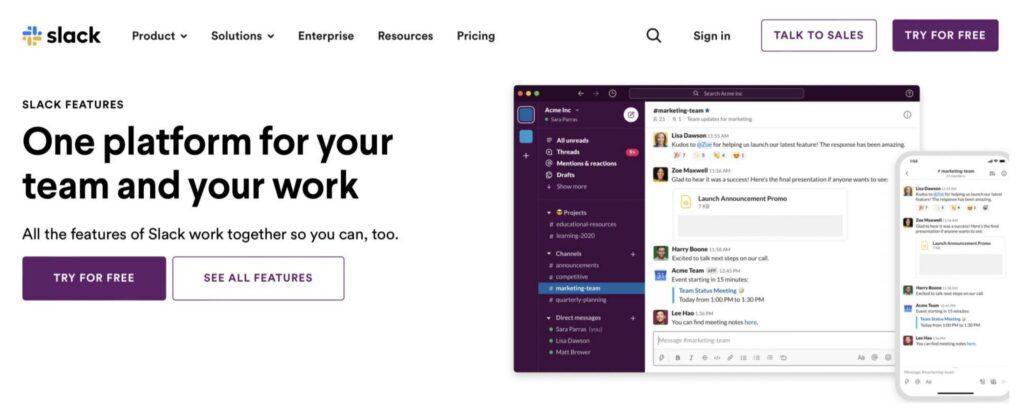 Slack is one of the most powerful collaboration tools for remote teams, used by millions of global users. It's available on mobile and desktop devices.
Features
Users can send direct messages (DMs) and files to a single person or a group of users
There's the ability to organize conversations into different channels according to function
Slack supports video calling. Talk to your colleagues about projects and work in-depth, without having to type everything into a DM. Note that this isn't a replacement for cloud storage services, you are able to drag, drop and share files with your colleagues directly within Slack. 
Compatible with Google Drive, Dropbox and Box.
Cost
Slack has an excellent free version, though there are some limitations. Collaborate with up to 50 people on the Pro plan for small businesses, costs around $7/person
ASANA
Asana has been around since 2008, making it a veteran in the project collaboration arena, and companies such as Intel, Uber, Pinterest and TED all use it as their core communication tool.
Features
Very good integration with other applications
Create to-do lists for ongoing projects
Set reminders for upcoming deadlines and send requests to colleagues. 
Team members can also assign comments to posts within the app.
You can organize all your projects in a list or board format, and there's a search function so you can locate past work quickly. 
There's a reason why these big tech companies are using Asana. Teams can stay super-organized and facilitate conversations when it comes to updates on how work is progressing.
Cost
Asana has a free version which is a good place to start if you're just getting started with team collaboration tools, and their premium version is $11/month
TRELLO

Available on the web and with mobile apps, Trello lets you easily organize projects and work on them with colleagues.
Features
Work with boards or lists, which can be organized by teams and different tasks. 
Set up to-do lists and delegate among colleagues. 
An option to assign comments to cards to give feedback to others.
Strong integrations with apps such as Evernote, GitHub, Google Drive and Slack. 
Cost
Ability to download free version; there's a $5/month fee for small teams that need to manage work and scale project collaboration. 
The premium pricing tier unlocks additional administrative features for better organization. An enterprise tier provides additional functionality at $17.50.
PODIO
Podio is a flexible and customizable online platform for work and communication among teams. 
Features
Organize large stacks of work and delegate tasks among employees.
Share files, view the status of ongoing projects and get feedback on the things you're currently working on. 
Easy-to-use interface and wide range of quality integrations third-party services and apps including Dropbox, Google Drive, Evernote and Zendesk.
Cost
Free for up to 5 team members. The next level, Plus, is $11.20, and provides automated workflows.
As a small business owner, you're stretched thin. 
Track projects and help your team work more efficiently with one of these team collaboration tools—most of which have a free or low-cost entry fee. Contact Top of Mind Marketing to get started with your marketing plan. We're writers and content marketing specialists.