4 Best Website Builders for Small Business
We took a look at four of the most popular website builders on the market today. Key evaluating criteria were ease of use and cost. We were really looking for the best turnkey websites—those that really didn't require previous web development experience. All of the applications below are based on drag-and-drop technology and responsive web design tools. Do we have a favorite?
While it's hard to beat GoDaddy's website cost of $10/month for their basic business site which also may win the "ease of use" award, it also has some limitations. Each of these applications has its pros and cons. Read our reviews to help make a decision. Build in as much functionality as you can, but keep in mind that with more complexity comes more difficulty. Some of these sites really aren't as scalable as others, so keep that in mind. Think about what's most important to you. What do you need right now?
Why a website is important
If you're thinking "we'll just get something out there"–something I hear a lot—we encourage you to rethink that. A website is always a big deal. Content, images and design converge to say a lot about you and your business. It doesn't have to be a big site, but it does have to have integrity. Need some help? Contact me @ janet@top-mindmarketing.com
Strikingly
Strikingly is a website builder that really does allow users, with little or no development experience, to create mobile-optimized websites, so it makes our list of the best turnkey websites. Strikingly's mobile-first approach means that its templates meet responsive-design standards, auto-adapting to all devices–desktops, tablets, and smartphones. Strikingly has more than 25 templates from which to choose, and each template has built-in ecommerce functionality and a blog. Don't be alarmed. Don't let this confuse you—you don't have to use the ecommerce component or the blog.
Do note that if you're creating a website for your business, you should be thinking about adding a blog and blogging on a regular basis. It's a very good way to increase your google authority and show up on search engines. They need savvy content and keywords to go to work to index your site. It all starts with keywords.
What you'll love about Strikingly
Reliable and secure
Start with a free trial to see if this will work for you
Live chat support—phone support with the VIP plan @ $49/month
Create your own online store. Free custom domain
Easy drag n' drop technology
Free SSL
No code or design skills required

Social m
Not so great
When I want to change the color schematic, I only have 2 choices, not a full color palette, in this case I have a choice of pink, red and turquoise—none of these works for me. If I want more subtle colors, I have to choose another template. It's not a hardship, as there are more than 25 templates. They are categorized by ecommerce, organizations, blogs, landing pages, personal (think weddings), etc.
Overall, Strikingly makes it very easy to create a simple website. It may be best suited to standalone landing pages and blogs. If you're just starting out, Strikingly is an excellent solution. Something to be aware of, however, it may not scale. If your needs are more complex, especially if you require robust ecommerce functionality, it may be that another product would be better suited to your needs.
Web.com
Web.com was founded in 1999—one of the first companies to offer DIY website-building options, and it continues to upgrade its technology for its website users. Web.com offers a lot of functionality for website startups, including responsive web design tools. There are four monthly pricing tiers, from basic to ecommerce premium. Web.com has predesigned content blocks to make custom photo or video galleries, promotional banners, etc.
Additionally, web.com users have access to more than two million free stock images, YouTube and Vimeo videos. SEO and PPC experts are available to set up products and build e-commerce websites for a fee. Web.com's dedicated e-commerce plans are for users who need appointment scheduling, marketplace selling and shipping functionality.
What you'll love about Web.com
Drag-and-drop functionality
Mobile-friendly
Free domain name
Advanced ecommerce capability makes this scalable
Amazon multichannel fulfillment and fulfillment automation capabilities for Ecommerce Premium users
Showcase your Instagram feeds, add a Pinterest "Pin It" button or link all your social media profiles
Not so great
No free plan
Renewal rates can be high
No cloud hosting plans
Once you create a website on Web.com, it can be challenging to transfer your website to another platform if you're changing providers
GoDaddy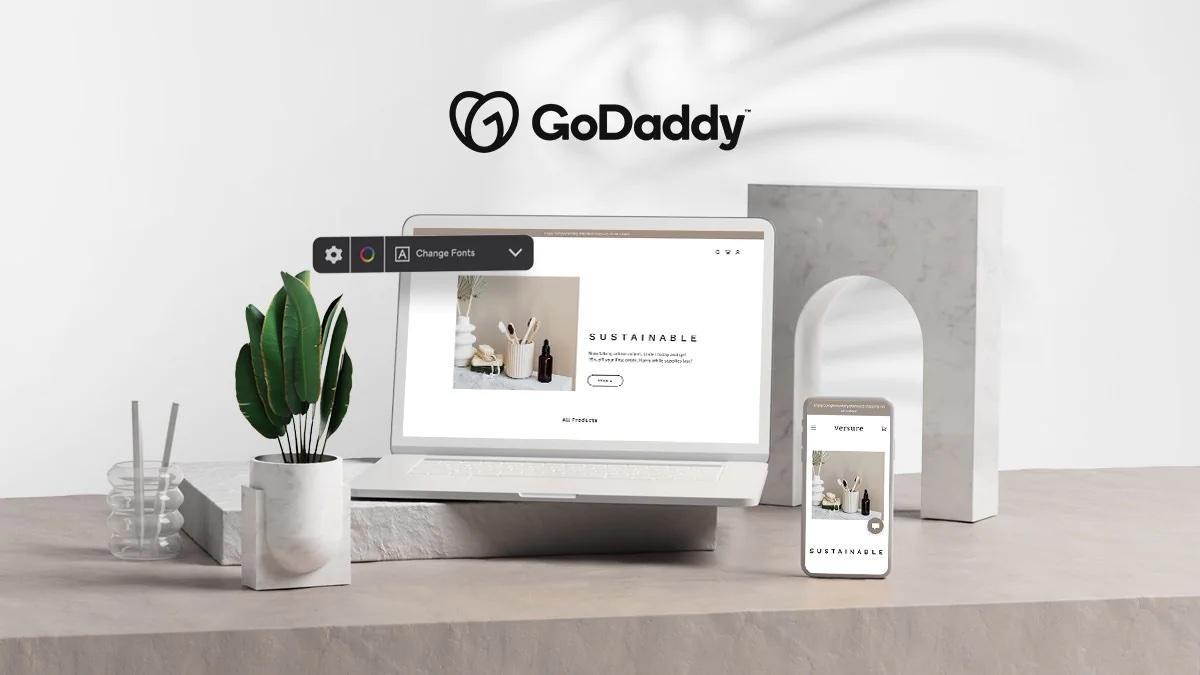 GoDaddy is the world's largest and trusted domain registrar. GoDaddy makes it easy to buy and find a domain name. As a website host, its speed and uptime rate as high as 99.98% make it a good choice for website hosting. Its website-building platform provides affordable pricing plans, a design editor, e-commerce functionality and responsive web design tools.
GoDaddy's website builder is for those who want to get a website up and running quickly. It's not for power users or those who spend a lot of time tweaking their site or making adjustments. It's simple to use, and for some, that will be a negative. Depending on which package you choose, available tools include appointment scheduling, email marketing, social media management, a graphic design tool and a simple CRM.
I made a GoDaddy website for a client a few months ago. We used it because that's where he had registered his domain. I'd never used GoDaddy before, so I expected to be fumbling around with this, but it is shockingly easy to use! For a startup website builder with little or no experience, GoDaddy is the ideal choice.
This may be the ultimate DIY startup website builder
No coding, no design or website experience required. It's very logical. For each page, there are four or five layout choice. Choose one and swap out the placeholder images and text with your own. I created six pages and a blog for my client, a realtor. It's very easy to update with new listings and blogposts. It looks great, very clean and easy to navigate.
What you'll love about GoDaddy
GoDaddy website costs: For my client we're paying $10/month
100+ responsive design templates
Free version available
Free chat + real person support
If your domain is registered with GoDaddy, when you're ready to go live, it's seamless
Not so great
Limited site design customization

Limited e-commerce features

Pricey add-ons
Wix
Wix is an Israeli, cloud-based web development company that is publicly listed in the US. Wix's bigadvantage is that once you register, you can start creating your website. Drag and drop along with a simple, intuitive interface translates to ease of use. More than a website, Wix offers a complete set of tools to build online presence with an especially well built-out SEO function.
What you'll love about Wix
Great for beginners who want to get a simple, great-looking website up and running
Wide range of website templates, tailored by industry
Free access to a huge number of image galleries
Build from scratch or answer a few simple questions and Wix's AI creates your custom website
By registering on Wix, you gain storage space to host your new website
1-year free domain registration
14-day money back guarantee
Wix Stores make it easy to start selling online
Wix Ascend business tools and email marketing

More than 900 themes, customize colors, fonts, images, etc.

Wix Customer Care Experts offer 24/7 support in English as well as support for 14 other languages during specific business hours. Start a live chat, submit a ticket, or request a callback.
Not so great
More than 900 themes, customize colors, fonts, images, etc. Once you've launched your site, you can't apply another design skin as you can with other applications.

Wix websites cannot be migrated to other systems or hosting services. Once you've created your website on Wix, it will be anchored to this platform

.

Difficult to truly customize online presence.

Shared hosting means that you can experience slow load times

There are complaints that Wix sites are not Google-friendly, meaning that they don't show up in search engines.
This list is neither exhaustive nor inclusive
There are more applications on the market and likely more in development. But these website tools are proven commodities. I've used these, and I know how accessible they are. Each has its pros and cons, so think about your needs. Scalability and customization are issues with some of these applications. As public applications, they're built for the masses, so they may not scale and the ability to customize may be limited.
If you have questions about these turnkey websites, contact
Top of Mind Marketing
. We're writers and digital media specialists.