How to Increase Your Google Authority with Cornerstone Content 
What is cornerstone content? 

Have you ever watched the way a new community develops and grows?
All it takes is one really great store to anchor a community. It catches on and soon, more stores and businesses follow. Restaurants, dry cleaners, a gas station, then comes that coffee shop that opens early and has the most amazing pastries. Apartment buildings and condos follow, then a housing development. Services pop up to serve the people who are settling into this new community. Soon there's a hair salon, architects, contractors and a real estate office. We've all seen it happen and likely have been part of this kind of growth.
Cornerstone content is the core of your website
Just as cornerstone buildings or stores are the core your community, so cornerstone content is the core of your website. Cornerstone content is written to be authoritative, complete, and link-worthy. Also called pillar pages, cornerstone pages are comprehensive overviews of your business. Each page should thoroughly describe a product or service. You're the expert, this is what you know, so you shouldn't have trouble writing a 2,000-word page to describe what you do. Make it personal by providing an example or a case study. What's most important is that all of these cornerstone pages and sub-cornerstone pages link to each other. Blogs about these pages should link to those pages. 
For my own website, I have nine sub-cornerstone pages that roll up to my overarching Digital Marketing cornerstone page. This is still a work in progress, but my goal is to develop a comprehensive linking strategy throughout my site. All digital marketing topics will roll up to my Digital Marketing cornerstone page. Every blog will link to the sub-cornerstone pages. When Google indexes content, it looks for these links, for headings and subheadings. We want to make it easy for Google to find us.
Cornerstone content and SEO 
Cornerstone content is comprehensive. Forget those pathetic little 250-word overview pages because you know that your clients don't like to read. Get over it. Your focus is to provide the best and most complete information on a particular topic rather than to sell products. Cornerstone pages should reflect your business or communicate your mission perfectly. 
It's time to get serious about writing. Sub-cornerstone content pages should be 2,000 words or more. Cornerstone pages should be 3,000 words. Blogposts that support and link to these pages should be 750-plus words. Google needs content to work. You need well-researched keywords in your headings and subheadings, in your metadescriptions and focus keywords. This all works together.
Why is cornerstone content important?
It can be hard to rank for search terms that are very popular. A cornerstone-content approach can help you tackle those competitive search terms. If you write a lot of pages on similar subjects, you need to tell Google which of them is the most important. If you don't, you'll be eating away your own chances to rank well in the search results. Providing the correct internal linking structure among your posts tells Google which article is the most important. You're giving hardworking Google a big boost to help it index the pages on your website. 
A strategy to determine the internal linking structure of your website
With a well-designed cornerstone strategy, the user should be able to click straight from your homepage to your cornerstone articles and sub-cornerstone pages. All of your posts about similar topics should link back to their corresponding cornerstone articles, so its importance is clear from your site structure. 
As your site develops, you'll continue to write articles on different aspects of a subject, and each should link back to a sub-cornerstone page or topic. This internal linking structure will increase the chance of your cornerstone content pages ranking in Google searches. Any new article or blogpost should link to that page that is most relevant. 
Choose your cornerstones carefully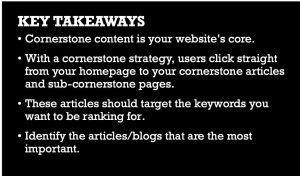 Think of the five or so pages you would like users to read when they first visit your website. These articles should be the cornerstones of your site. Which articles/blogs are most important? Which are the most complete and authoritative? They should target the keywords you most want to rank for.
One more thing to note. You may think of your homepage as a cornerstone page, but that's not really what your homepage does. Your homepage really doesn't provide in-depth content about a particular topic; rather, it should make it easy to find those cornerstone pages that do provide comprehensive information about your business. Your homepage directs traffic.  
Learn to make cornerstone content go to work for you. Contact Being Top of Mind. We're writers and content marketing specialists.