Local to Global: Unleashing the Power of a Local SEO Strategy
Local SEO, or search engine optimization, is a powerful digital marketing strategy designed to improve the visibility of your business in local search results. With the rise of mobile devices and the increasing use of voice search, it is more important than ever to have a strong local online presence. If you're a brick-and-mortar store, optimizing your website and online profiles for local search will help drive highly targeted local customers and foot traffic to your store.
Content
Why local SEO is important
Benefits of a strong local SEO strategy
Statistics and trends
Local search near me
Keyword research
Local SEO best practices
Local search near me: How many times have you added "near me" to a query?
That's local SEO at work. Besides the convenience of identifying local doctors, dentists, barbers, dry cleaners and other service professionals in our own little 'hoods, we like to support our local businesses. It builds community.
Local SEO Tools: Local Pack is a Google search tool
To help connect those users with their location results, Google has changed their algorithm to accommodate location in its search engine results page (SERP) listings. A handy Google search tool is Google's Local Pack–connecting users to specific local businesses they're looking for.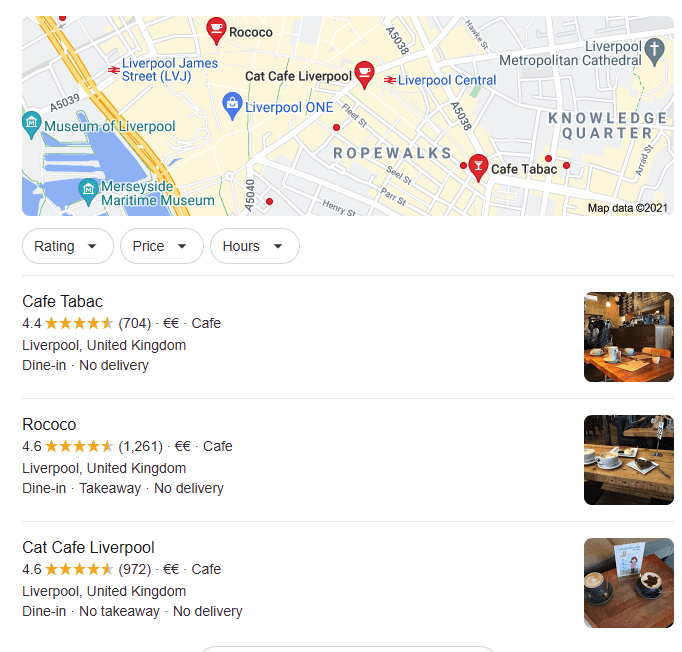 You've seen the Local Pack a gazillion times, but you likely didn't know that it was its own product in the search space. Let's say you're going to be in Athens for a month and you're looking for cafes with wifi near your airbnb. (Actually this was my local search last spring.)
You're served up a map with three listings, your location and that of three cafes. This is your Local Pack, and it's very useful. If anyone's wondering, I found a delightful little café in my neighborhood that became my go-to home with yummy food and friendly people, thanks to Local Pack!
One of the key benefits of implementing a local SEO strategy is that it allows you to reach potential customers who are actively searching for products or services in your area. When someone searches for a business like yours, search engines use their location data to deliver results that are relevant to their specific location. By using Google search tools to implement local SEO, you can ensure that your business appears in these local search results, increasing your chances of attracting new customers.
Benefits of implementing a local SEO strategy
Stand out from the competition. When someone searches for a product or service in your area, you want your business to appear at the top of the search results. By optimizing your website and online profiles for local search, you can increase your chances of ranking higher than your competitors and capturing the attention of potential customers.
A strong local SEO strategy can drive more foot traffic to your physical store. People use search engines to find businesses near them, especially when they are ready to make a purchase. By appearing in local search results, you can attract customers who are more likely to visit your store and make a purchase. Think about how many times you've keyed into a search field "xxx business near me". You want to be that business that shows up in that search results page.
Implementing a local SEO strategy can also improve your online reputation. When customers search for your business online, they are likely to come across customer reviews and ratings. By actively managing and responding to these reviews, you can build trust with potential customers and enhance your brand reputation.
Positive reviews and ratings can also boost your visibility in local search results, further increasing your chances of attracting new customers. Remember that this is your total online presence that includes social media, your Google Business Profile, etc.
Local SEO statistics and trends: Why local SEO is important
The following statistics validate the importance of a strong local SEO strategy:
According to a recent study, 46% of all Google searches have local intent. This means that nearly half of all searches are conducted by people looking for local businesses.

 

Furthermore, 76% of people who perform a local search on their smartphones visit a physical store within 24 hours; 28% of these visits result in a purchase.
With the rise of smart speakers and virtual assistants, more people are using voice commands to find local businesses. An estimated 58% of consumers have used voice search to find local business information in the last year. That number will increase in the very near future and is another key reason why local SEO is important.
These statistics clearly demonstrate the significant impact that local SEO can have on your business. By neglecting to implement a local SEO strategy, you risk missing out on a large portion of potential customers who are actively searching for products or services in your area.
Getting started on your local SEO strategy
The first step in developing a local SEO strategy is conducting thorough keyword research. This involves identifying the keywords and phrases that people in your target area are using to search for businesses like yours. By knowing which keywords are relevant to your business, you can optimize your website and online profiles to rank higher in local search results.
Start by brainstorming to create a list of keywords that is relevant to your business and location. For example, if you own a bakery in New York City, your initial list might include keywords like "bakery in NYC," "fresh bread in New York," and "best pastries in Manhattan." Once you have your initial list, use local SEO tools to expand your list and discover new keyword opportunities. 
Look for keywords with low competition and high volume
When selecting keywords, consider their search volume, competition, and relevance to your business. Focus on long-tail keywords, which are longer and more specific phrases that have lower competition. These keywords often have higher conversion rates because they indicate that the searcher is looking for something specific.
For example, instead of targeting the broad keyword "bakery," you might target the long-tail keyword "gluten-free bakery in NYC" or "kosher bakery in NYC". By using these more specific keywords, you're qualifying your audience—these are the people who are more likely to be your target clients. Keywords are the most basic building block of your SEO strategy and a critical part of your overall local SEO strategy.
Put your keywords to work
Keywords need to be worked into your content. Make sure they're in your title, headline and subheads. They should be worked into the body copy of your content and should also be included in your metadescription. Avoid keyword stuffing; it takes some skill to make the inclusion of your keywords seem natural, rather than forced or contrived.
Optimizing your website for local search
Once you have identified your target keywords, it's time to optimize your website for local search. Start by ensuring that your website is mobile-friendly and loads quickly, as these factors are important for both search-engine rankings and user experience. Mobile-friendliness is especially crucial, as the majority of local searches are performed on mobile devices.
Measuring and tracking the success of your local SEO efforts
To measure and track the success of your local SEO efforts, it's important to regularly analyze and monitor key metrics. Utilize tools like Google Analytics and Google Search Console to track website traffic, user behavior, and keyword rankings.
Monitor your Google Business Profile insights to understand how customers are finding and interacting with your listing. Additionally, keep an eye on the number and quality of online reviews your business receives. By continuously analyzing these metrics, you can make informed decisions and optimize your local SEO strategy for better results.
Local SEO tips and best practices
To maximize the effectiveness of your local SEO strategy, here are some tips and best practices to consider:
Conduct regular keyword research to stay updated with local search trends and local SEO tools.
Optimize your website's content, metatags, and URLs with location-specific keywords.
Prioritize mobile optimization to provide a seamless user experience.
Regularly update and monitor your Google Business Profile listing for accuracy. Add your blogs to your GBP and make sure there's a call to action. Include your location in your CTA.
Actively seek out and build local citations on relevant websites and directories.
Add your business to local directories—make these part of your local SEO strategy.
Identify local search terms and create local content: Make sure your name and address are in your footer. Add a notation that you are, for instance: "Serving the San Francisco North Bay communities of Napa and Sonoma".
Make your writing conversational—like the locals—this is your community, after all.

 

Use good images that are properly optimized. Make these local images that really speak to your community.

 
Conclusion
Local search is about improving the visibility of your business in local search results
Google prioritizes local search
Benefits include more visibility and increased traffic

 

Creating a local search strategy starts with keyword research. Include those keywords in title, headings and subheads
Create a Google Business Profile and continue to monitor, track and update your online presence
We can help optimize your website for a local SEO strategy. Contact Being Top of Mind. We're writers and content marketing specialists.