Why is keyword research important?
Search starts with keywords, the most fundamental part of your campaign. If you're doing cost-per-click advertising (PPC) or affiliate marketing, keyword research is where it all starts. If you want your website to show up in search engines, it's those keywords and phrases again that contribute to your SEO. It's important to understand how important keywords are to any kind of website marketing activity and analysis. You're looking for a sweet spot—those words/phrases with low competition and high traffic.  
Best keyword research tools
There's an increasing number of keyword research applications at a variety of price points. Each has strengths and weaknesses. You want to find a single application that provides the most functionality for your marketing spend. 
You'll need to be evaluating single keywords and phrases for keyword difficulty and volume—the average number of searches each month. Difficulty is the degree of competition. A high number means this is going to be very expensive.
You'll want to know what the cost per click is (CPC) and other factors that you'll need as you design your affiliate program or manage your PPC campaign. Identifying the competition is important—having some competition is important—if no one's searching for a term, you don't want to waste your time on it. 
If there's low search volume and growth opportunity, you may want to be ranking for that particular keyword. 
1. Google Keyword Planner
The Google app well may be one of the best keyword research tools, and Google's Keyword Planner is free. Since Google owns the search space, it makes a lot of sense stay in that environment and use their free tools—it keeps it all in house. Besides the consistency, GKP is easy to use.
Enter your keywords/phrases into the search field in Google's Keyword Planner, and you'll get a results screen that shows a wide range of data—the number of monthly searches for that term, competition, and pricing for the keywords and phrases.
Start by sorting by the Competition column. You want High search volume results—maybe Medium. Be discerning about Low volume. If no one's searching for a word, you don't want to be searching in that space.
2. Jaaxy: Great for an affiliate marketing business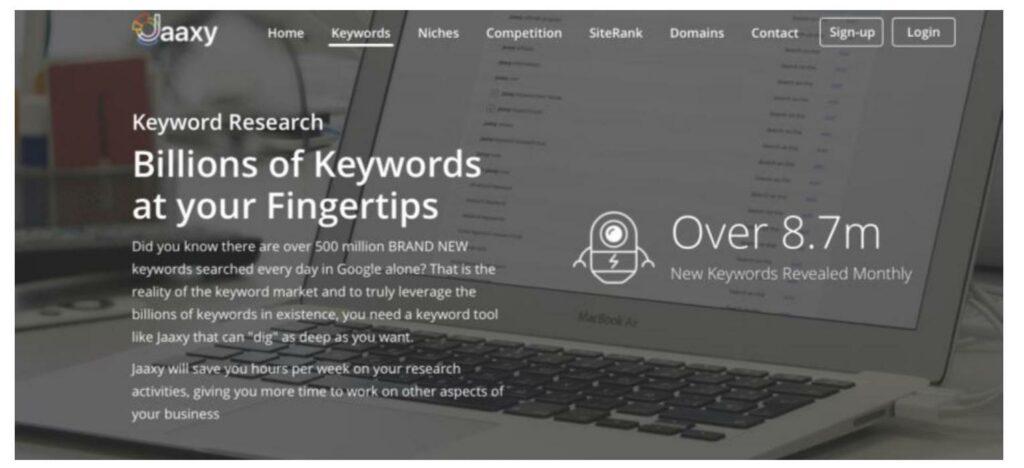 Jaaxy's keyword research tool is pretty straightforward: Type in a keyword, topic, or URL, and the tool will give you a list of related and suggested keywords, along with basic stats on each—including monthly volume and traffic. 
Jaaxy shows you how to find affiliate programs to join and feature on your site. You can switch over to the Affiliate Programs tab, and enter your keyword to see a list of affiliate programs sourced from Commission Junction, Link Share, Digital River, and ClickBank. Jaaxy also shows you the listed commission and Alexa Rank for each program and associated product website.
While Jaaxy offers a somewhat limited free plan, it may be the best keyword search tool for those who want a more affordable starting point than Moz, Ahrefs or Semrush with their higher pricetags.
3. SurferSEO

Tag identifier: SurferSEO tells you exactly what your headings and subheadings should be
The Google Chrome extension from Surfer SEO is separate from the full SEO suite and offers a more limited, free version of this platform. 
Once you download and enable the extension, go to Google and search for your keyword the same way you'd do a normal Google search—you'll see estimated search volume and CPC data populate in the search bar as you type. 
Hit enter to see the same info, plus the number of exact match keywords on the page for each SERP listing.
Related keywords and visualizations of the SERP data are on the right-hand side. Also on the right, you can click to generate an article outline using the Free AI Article Outline Generator. 
These H tags are what Google looks for as it indexes content 
You'll see a list of all the keywords you should include in your content, plus a suggested heading hierarchy–these are your H tags.
All of these applications are easy to use and as far as I'm concerned, do different things. I'm pretty comfortable with Google's Keyword Planner. But I know there are things it doesn't do as well as other apps. I've gotten used to deploying another app to refine my keyword strategy.
I have a subscription to DemandJump, an application that's predicated on writing and publishing enough great content to rank organically and show up on search engines. If I search for a potential topic in DJ, it comes back with suggested keywords and phrases. This is the part I like: It also tells me exactly what my subheads and headings should be, their ranking as well as the questions I should be asking. 
While using a single application is the ideal, it only takes a minute to pop your article into DemandJump or Surfer SEO to identify the most strategic headings and subheads.  
What does a keyword tool do?
Keyword research tells you what topics people care about and how those topics rank with your audience. The operative term here is topics—by researching keywords that are getting a high volume of searches per month, you can identify and sort your content into topics that you want to write about. 
What is intent?
We need to be thinking about the intent behind those keywords, and whether or not a piece of content satisfies the intent. Remember that you want to end the search journey here, satisfying the intent of the user. Remember that this is all about planting a seed word and getting keyword suggestions to find a low competition gem. Along the way you'll find out things like the keyword's difficulty factor and volume—the number of searches in an average month. 
The benefits: How your
keyword research tool will help you
Identify the popularity of queries and their ranking difficulty—which translates to their cost per click (CPC) and the bids' affordability for you. 
Keyword research is an essential component of digital marketing. If you're doing online advertising or affiliate marketing, keywords are the foundation of your campaign.
How do I do my own keyword research?
Make a list of important, relevant topics that are indigenous to your business. Ideally, you will have five-ten information buckets of topics. If you're a blogger, your blog's categories should directly translate to your topics and are a great place to start.
Fill those buckets with related keywords and keyword phrases. Get creative. Do some googling to find related words. Or use the thesaurus in MSWord to jumpstart your thinking about this.
Keyword research can be time-consuming
This is just an example of how the results screens pick up words and come back with results—often irrelevant ones. I was looking for keywords for one of my clients who owns a small storage/moving business. His business is entirely rental. People use his services on a short-term rental basis only. 
This is an example of how the results screens pick up words and come back with results—often irrelevant ones. I was looking for keywords for one of my clients who owns a small storage/moving business. His business is entirely about renting his containers on a short-term rental basis only. Google keyword planner kept throwing back phrases about moving and storage containers for sale. What? This gives you an idea of how Google works—and how smart it is. It recognizes a relationship between rent and sale, so "sale" words kept showing up on the result screen. Keep trying new word combinations and stay diligent until you identify enough keywords to create your campaign.
Keyword research can be confusing, but it's the most important part of your online advertising (PPC) campaign. Getting this right is essential. Contact Top of Mind Marketing. We're writers and content marketing specialists.