The Best Personal CRM? The one that's rightsized for your business
Once upon a time—like before Covid–business was conducted face to face, in crowded meeting rooms and bustling cafes. The recession of 2008-2009 also contributed to the new work model. We all got laid off and started our own businesses and consultancies. Driven by necessity, we learned that we could downsize and work anywhere. We're now a workforce of entrepreneurs that is completely mobile. I'm writing this from Ortigia, an island off the east coast of Sicily.
We still need to stay connected. Whether riding the waves in Nazare on the Portuguese coast or tromping through the Amazon jungles, communication is more important than ever. That's why you still need a personal CRM. But you don't need enterprise CRM apps like Salesforce or Hubspot. You need a CRM that is rightsized for your business. It needs to synch contacts and integrate with your other go-to apps.
How does a personal CRM work?
The CRM lifecycle starts with your marketing department, moves over to sales, hands off to operations, and ends up back at sales and marketing. At some point, it's a matter of maintaining the relationship with your customer hopefully upselling. But what if you're the marketing, sales and operations department? You need a personal CRM more than ever to track that customer, follow up with communications to keep top of mind.
Just because we're virtual doesn't mean we don't need to stay in touch
Building relationships has never been more important. A personal CRM, or customer relationship management system can be a game-changer. It's a tool designed to help you manage and nurture your relationships.
A personal CRM acts as a virtual assistant, keeping track of your contacts, interactions, and important details so that you can stay on top of your business from far-flung destination. It allows you to effortlessly organize your contacts, schedule follow-ups, and track your pipeline progress. It can also help you streamline your workflow, boost your productivity and strengthen relationships.
A personal CRM helps you:
Centralize all your contacts in one place. No more searching through various platforms or struggling to remember important details. With a personal CRM, you have all the information you need at your fingertips.
Stay organized and stay on top of your tasks. You can set reminders for follow-ups, schedule meetings, and keep track of important deadlines. This not only helps you stay productive but also ensures that you never miss an opportunity to connect with someone important.
Build stronger relationships. By having a holistic view of your interactions with each contact, you can tailor your conversations and follow-ups based on their preferences and needs. This personalized approach goes a long way in building trust and rapport, leading to more meaningful and fruitful relationships.
Features to look for in the best personal CRM
When choosing the best personal CRM, consider the features that will make your life easier.
Integration is key. Look for a CRM that seamlessly integrates with your existing tools and platforms—your email, calendars, and project management systems. This what will ensure that all your information will be consolidated in one place.
Consider the customization options. Think about the data you want to track and/or collect. If you don't see that field, can you create a customized field for it? If not, then this application may not be the right app for you.
Look for automation. The best personal CRM automates repetitive tasks, such as data entry and follow-up reminders. It's a time-saver that also keeps you on track by creating reminders. Automation allows you to build relationships rather than dealing with administrative tasks.
How AI is transforming personal CRMs
AI-powered CRM apps are:
Unlocking a whole new level of productivity. AI algorithms can analyze your interactions, emails, and social media data to provide valuable insights and recommendations.
Analyzing your email conversations and identifying the best time to follow up with a contact or suggest relevant topics to discuss based on their interests. It can also help you prioritize your leads by analyzing their engagement levels and predicting their likelihood of conversion.
Automating data entry by extracting relevant information from your emails and other sources, eliminating the need for manual input.
Examples of CRM at work
A real-life example is when fill out an intake form on the web and download an ebook. That download alerts a sales rep who follows up with you to gauge your interest in that product.
That's CRM at work.
Put workflows in place
Update cross-channel information
Send out a thank-you when a customer makes a purchase.
Upsell or cross-sell a client if they purchase a particular product.
Offer a birthday greeting with a promo code.
Send a discount to a customer who hasn't made a purchase recently.
Tie a content download to a specific product pitch.
Notify customers of a new product launch current customers when a new product has been launched.
Email to those who abandon purchases in their shopping carts (remarketing).
Notify customers when an item on their wish list goes on sale
The best personal CRM apps
How to choose the right personal CRM for your needs
To make the decision-making process easier, consider the following factors. Remember that you'll need to compromise, so think about what considerations are most important to you. For me, it generally comes down to ease of use and price. As for specific requirements, I don't think I have requirements that are unique. Don't overthink this.
Your specific requirements: Identify your unique needs and prioritize the features that are most important to you.
Ease of use: Look for a personal CRM that offers a user-friendly interface and intuitive navigation. A complicated CRM might hinder your workflow instead of enhancing it.
Scalability: Consider your future growth and choose a CRM that can accommodate your expanding needs.
Support and training: Ensure that the CRM provider offers reliable customer support and training resources to assist you in getting the most out of the system.
Pricing: Cost has to be part of the analysis.
My general rule of thumb when evaluating new software is that since they're all doing pretty much the same thing, it comes down to cost and ease of use. How much are you willing to spend and how accessible is the application. I do like a free trial that lets you see if this is really something that becomes one of my go-to apps. Pricing on these apps is modest, so think about whether/not a personal CRM would help you streamline communications and follow-up.
Dex 
Dex collects contact data from social media accounts and stores it in the app. Based on your contact book, the Dex personal CRM will even suggest new potential contacts
Various social media integrations with Facebook, LinkedIn, Twitter, Gmail, and Instagram 
Seamless integration with several Google calendars 
Simple deduplication
The good and the bad
Elegant design and usability for students, investors.
Lack of features for sales and marketing
No automatic data synchronization
Pricing: $13.50 per month ($108 annually)
Queue
Queue so far only works on iOS mobile devices. The application is still in the beta version and has been extensively tested and improved. import contact data from Gmail, Google Calendar, Twitter, and iPhone contacts. The social media and phone contact organizer then sorts out the contacts and queues them up in the order of priority so that users know who is next to catch up.
Setting reminders and notifications 
Various integrations with social media and emails such as Twitter and Gmail 
Search across the network 
Address and contact book 
Data import and export
a personal relationship management tool that helps busy people stay in touch with their loved ones.
The good and the bad
Ease of use and great integration capacity. Lack of desktop option.
Pricing: The application is $7.99 per month or $79.99 annually.
Garden App
Garden App's owner has shared that he decided to create a personal CRM after losing touch with friends while working on his previous startup. Garden is a great contact organizer that helps people stay in touch without jeopardizing their careers.
Manage both personal and professional contacts 
High level of cloud security 
Address and contact book 
Daily, weekly, and monthly reminders 
Customizable notifications
Great for Apple users who feel that they're losing touch with friends and family, and overwhelmed by business contacts.
The good and the bad
Ease of use and integration, excellent reminders. Lack of integration with social media and emails—a problem if it's your emails that are causing you to invest in a CRM application!
Pricing: This application is a free contact management tool for iOS device users.
Nimble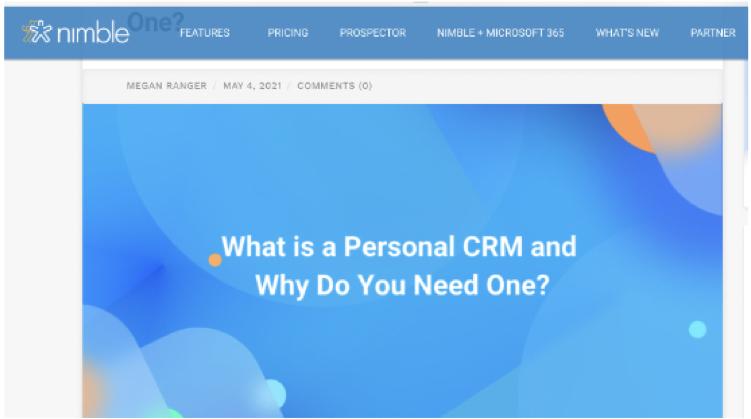 Nimble is a contact relationship management system that has a more professional application. It integrates with more than 160 tools like MailChimp, Facebook, Twitter, QuickBooks, etc. Users can unify all their contacts and communication data from various sources and keep track of their incoming mail in one location.  Personalized templates ensure quick and effortless communication. On top of that, the personal relationship manager allows users to create to-do lists, unify several calendars, and boost email marketing engagement.
Pipeline management 
Personalized content creation 
Integration with 160+ apps 
Address and contact book 
Notetaking and updates for meaningful follow-ups
Contact categorization and organization
Customizable email templates
Email marketing campaigns execution and tracking
The good and the bad
Nimble is the best personal contact management software for business owners who need to store and organize hundreds of contacts. Great for email marketing.
No free version and steep learning curve
Pricing: $19 per month with a 14-day trial period and includes all the available features.
Clay

Clay is another single-user CRM system for managing large numbers of contacts. The application imports data from Twitter, LinkedIn, iMessage and emails and keeps the information in a consolidated format. The profiles are generated automatically based on the imported data and regularly updated to include the latest details. 
Smart search feature 
Integrate with social–like Twitter and LinkedIn 
Auto reminders for universal events and holidays
Personalized reminders and notifications 
Address and contact book and automatic profile updates 
Contact organization and categorization 
Voice transcription for notetaking
The features are helpful, but this tool is not that great for those in sales and marketing–the two industries that may be the biggest users of CRMs. Great for freelancers and entrepreneurs in other industries with a lot of other functionality.
The good and the bad
Automatic data synchronization, ease of use. Not the best for those in sales and marketing.
Pricing: $20 per month without a free version
Tips for effectively using a personal CRM
Once you've chosen your personal CRM, here are some tips to help you make the most of it:
Regularly update your CRM: Make it a habit to update your CRM after every interaction or new contact. This ensures that your data is accurate and up to date. If you go to an event or collect business cards, add these people to your CRM app.
Take advantage of automation: Set up automation rules to streamline your workflow and save time. This could include automatic follow-up reminders, email templates, or even lead scoring.
Segment your contacts: Take advantage of the opportunity to segment your clients. If you're doing a newsletter or other communication, you will want to use that segmentation for other client communications. Create custom tags or labels to categorize your contacts based on their interests, industry, location or any other relevant criteria.
Leverage data and analytics: Utilize the insights provided by your CRM to identify patterns, trends, and areas for improvement. Use this data to refine your strategies and make data-driven decisions.
Integrations and compatibility with other tools
A personal CRM becomes even more powerful when it seamlessly integrates with your existing tools and platforms. Look for a CRM that offers integrations with popular email clients, calendars, project management systems, and other tools you use on a daily basis. If it doesn't integrate, look for another application because that's fundamental. 
Personal CRM success stories
To truly understand the power of a personal CRM, let's explore some success stories from individuals and businesses who have experienced remarkable results:
John, a sales professional: John used a personal CRM to manage his leads and contacts. By utilizing automation and personalized follow-ups, he increased his conversion rate by 30% and closed more deals.
Sarah, a business owner: Sarah implemented a personal CRM to streamline her customer support process. By organizing her customer data and automating support ticket assignments, she reduced response time by 50% and improved customer satisfaction.
These success stories demonstrate how a personal CRM can transform your productivity and relationships, regardless of your industry or role.
Conclusion
A personal CRM is a valuable tool that can revolutionize the way you manage your contacts and relationships.
By centralizing your contacts, automating tasks, a personal CRM helps you stay in touch, set up reminders to follow up with customers and keep them in your pipeline.
Identify the personal CRM that fits your business/industry—they all have strengths and weaknesses.
Contact Top of Mind Marketing. We're writers and digital media specialists, 510.292.1843, jpeischel@top-mindmarketing.com